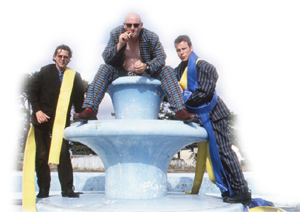 Back in the mists of time, ATL were known as Arthur Turner's Lovechild? Since 1999, it's been simply ATL.
And the legendary Oxford drunk rockers took quite a while getting around to signing a deal. Anyone else who'd supported Radiohead, Ride, Supergrass and the Candyskins - and given them all a run for their money - should have been snapped up immediately...
......right?
Wrong!
The four piece turned down deals from two majors on the grounds that they didn't want to "suck corporate dick". A general disdain for major record company types means ATL could never in a million years have signed a major deal.
ATL lead singer Mac's personal reticence towards major A&R men stretches back a while into the seven years he spent as a promotor at Oxford's Jericho Tavern. The Jericho was one of those toilet circuit joints that kept indie guitar music alive through the dark years of the early '90s and Mac has a fair claim to having been a key figure in many of the Oxford success stories of the last few years. As he so modestly put it:
"Ride, Radiohead, Supergrass - I invented them all!"
The A&R men would phone him regularly for the gossip on the local talent - in fact he was even offered a job in A&R himself, but it really wasn't his style:

"It's no good, I'd actually want to sign bands....I'd get fired within a week!"
When Rotator offered the band a deal they accepted on the condition that it was signed on the hallowed turf at Oxford United just before the first game of the season. The obliging label not only arranged for the club chairman to witness the contract on the day, but also for the team to beat West Ham 3-2 in Mac's honour with a superb Paul Moody hat-trick.
ATL are already becoming legendary and the sheer honest pleasure in their music will wake up a few pairs of ears with an attitude that hasn't been around for a long time.
Smile - you just discovered drunk rock.
Releases on Rotator

David's Soul (Or How I Became so Stupid)
Album

Tracklisting:

Son of the Human Cannon Ball
Ninestone
Black Heart = Blue Morning
PYHUIYFWFITM
Mike's Bike
Compass
Blue Chip Ticket
Turn Left @ Greenland
The Overflow
The Bad Samaritan
(I've got a) Telescope

Released: 1999
Catalogue #: RRAD 118

(I've Got A) Telescope
Single

CD Single featuring:


(I've Got A) Telescope
This is it, This is the Scene
With Welcome Arms
(I've Got A) Telescope (version '93)

Released: 1999
Catalogue #: RRSD 117
Links
Review of David's Soul on Anyone Can Play Guitar Website