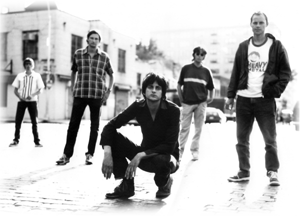 The band owes its origins to Mark and Nick Cope, Nick Burton and John Halliday all living in the same village and attending the same local secondary school between around 1974 and 1980.
The four Islip members of the band had begun working together by the time they left school and various line-ups and name-changes followed during the 1980s, until The Candyskins were formed in 1989, with Richard (mini) Brown on bass and banjo. After the successful release of the single Submarine Song in 1990, the band went into the studio to produce their first full-length album Space I'm In. The album included three singles Submarine Song, She Blew Me Away and You Are Here. Brown left the band before the album was released.
After a year of touring and the replacement of a stand-in bass player with Karl Shale, the band released their second album Fun? on Geffen Records in 1993. Characteristically, the band attempted to build upon the U.S. success of Space I'm In with an ironic album featuring songs about football and gardening. The album's opening track Wembley would be the first single from the new long play. Unfortunately, the album received little backing from Geffen and the second single Land of Love proved to be the band's last release on the label.
The album Sunday Morning Fever was released on Ultimate in the UK in 1997, and saw the band enjoy their biggest chart success with the single Monday Morning making it into the Top 40 of the UK Singles Chart. The record company went bankrupt and the band was left in limbo during the recording of their last album Death of a Minor TV Celebrity. Despite featuring the single Feed It which also appeared on the soundtrack to the Adam Sandler movie The Waterboy. The album was never released in the U.K. due to Ultimate's demise and the U.S. release was hampered by their U.S. label's financial problems.
The band broke up in 1998 and members now primarily pursue other projects in the music industry. Mark Cope has a new band Nine Stone Cowboy, and has released several singles including Jesus Doesn't Like Me. Nick Cope writes and records music for children. John runs Shonk - a recording studio based in Oxford.
Since their split in 1998, the band have re-united for a few special occasions including the last night of The Zodiac - their hometown's premier independent music venue and scene of some of their finest moments.
Farewell gig on New Year's Eve, 2001 at The Zodiac
Last night party of The Zodiac in Oxford on 17 May 2007
Carling Academy, Oxford, in what was The Zodiac, on the 8 August 2008
Truck Festival, 26 July 2009

Releases on Rotator


Mrs. Hoover
Single

CD & 7" Vinyl single featuring:

Mrs. Hoover
Disco Hell
Head of a Pin (CD only)

Released: 1995
Catalogue #: CD: RRSD 102 / 7": RRSV 102