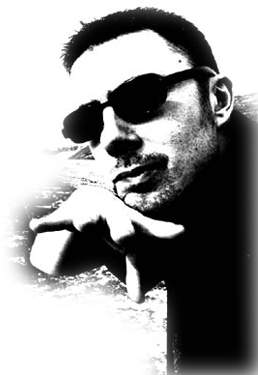 Frigid Vinegar is UK-born rapper Alex Lusty
Frigid Vinegar's first release was 'Dogmonaut 2000' in 1999 on Oxford based Shifty Disco records. The single was first played by John Peel on BBC Radio 1 and was then championed by DJ Steve Lamacq on the evening session where it went on to be one of the year's most requested records. FV performed the track 'Jack Biscuit' live on Lamacq's show from Maida Vale studios. Frigid Vinegar also recorded 4 tracks in session for Lamacq. 'Dogmonaut 2000' was also played on BBC daytime shows by DJs Mark and Lard, Chris Moyles, Jo Whiley and Dave Pearce. Frigid Vinegar also appeared 10 times on the now infamous Radio 1 roadshow playing to over 250,000 people.
The next single, 'How Cheap Is Your Love?', was released on Rotator records the following year and was both the Melody Maker and Daily Mirror's single of the week. It was again championed by Lamacq on Radio 1 and made it to number 5 after listeners voted for it in the chart of the year.
'Jesus Presley Superstar' and 'Diddleysquat' were the third and fourth singles again both lorded by Lamacq. 'Diddleysquat' featured Family Fortunes' game show host Les Dennis singing the chorus and appearing in the video. The last Frigid Vinegar single, 'Champagne', was released in January 2002 back on Rotator records. Lusty assembled a 5-piece band to back him for a UK tour that year. In addition to headlining, Frigid Vinegar also supported Echobelly.
Releases on Rotator

How Cheap is your Love?
Single

CD Single featuring:


How Cheap Is Your Love?
How Cheap Is Your Love?
(Cheese 'n' Vinegar Mix)
BanFoxHunting

Released: 2000
Catalogue #: RRSD 120
Champagne
Single

CD Single featuring:


Champagne
Prince Charming
Ollie Reed

Released: 2002
Catalogue #: RRSD 123