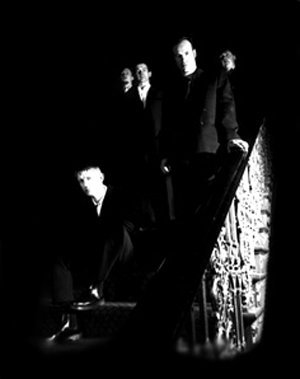 Within a week of their first single being released, Harvey's Rabbit - who had never previously gigged south of Cheshire - had played three of the coolest gigs in London, recorded a live session at the invitaton of Radio One, sold out their first single pressing in four days and spent a lazy afternoon chatting to the NME for a page worth of glowing praise.
Not that remarkable a story in today's hype-ridden music business, where expensive press agents and 'powdered up' parties, paid for by huge corporations, can usually sort out a bit of the limelight for the latest bright young things... ...Not that remarkable at all, until you realise that the bands label runs on a shoestring budget and only two staff some 40 miles away from Camden.
The band have managed to storm the heights with, as NME put it:
"about as many music biz contacts as any one-legged Peruvian mud monkey".
So why the reams of press, the constant airplay and the letters pouring in for seven inches of vinyl recorded for a hundred quid by an oddly named band from Manchester?
Obviously the music is good, but maybe it's because it's so radically different, such a breath of fresh air for a music audience suddenly back in love with The New. An audience listening out for that great song that is actually worth buying. Front-man Tim Lyons points out:
"The UK music scene is experiencing a new golden era. It goes far beyond the current buoyant Brit-pop scene and bands are again writing wonderful new songs for an audience that's frankly bored to death by shitty 'contemporary-hit-radio-formula' musak stations"
Thinking man's guitarist David Thom has, like the rest of the band, been humbled by the speed at which things have happened since their first release:

"We thought it was great - but we didn't know whether anyone else would. The NME and Radio One picked up on it so quickly, it really took us by surprise, someone even heard it in a Jakarta hotel while they were on holiday!"
Two years and two singles later the band released their debut album - 'The New Spiritual Vacuum' and were back in the limelight:

It's not exactly going with the flow at the moment - but then none of the best stuff out there is!" says Mick "There is some wonderful stuff being released, we're itching to get in there with our take on the mood of the moment".
People are asking bands to thrill them with something that makes them feel good again, and they're putting their money where ther mouth is. Harvey's Rabbit are benefiting from this simply because they can create truly great records and pull off a gig. Not because they are signed to a multi-album mega deal but because they are just a good band. A damn good band.
Releases on Rotator

Is That What You Call Change?
Single

7" Vinyl featuring:


Is That What You Call Change?
Room At The Top

Released: 1995
Catalogue #: RRSV 101
Happy Town
Single

CD Single featuring:


Happy Town
Room At The Top
All over the world
The Great Fire

Released: 1995
Catalogue #: RRSD 116
The New Spiritual Vacuum
Album

Tracklisting:


Happy Town
Is This What You Call Change
My Place
How Life Should Be
Love Is The Law
Flowers In The Sky
Jane
Whatever Happened To
Your Secret Place
Blue Cat Cafe

Released: 1995
Catalogue #: RRAD 109
Window Dresser
Single

7" Vinyl featuring:


Window Dresser
Nothing Touches You

Released: 1995
Catalogue #: RRSV 103
Love is the Law
Single

7" Vinyl & CD Single featuring:


Love is the Law
The Lodger
Rolling and Tumbling
(CD only)

Released: 1996
Catalogue #: RRSV 108 / RRSD 108