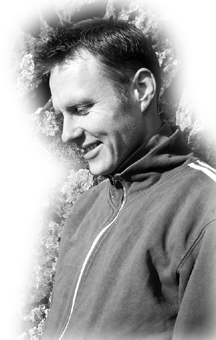 Jayson Stilwell is an fully qualified WSHA (World Sound Healers Association) sound healer. He earned this qualification studying under the President of the WSHA, Jonathan Goldman author of Healing Sounds, who says:

"Jayson Projects profound vocal harmonics that transcend culture and tradition."
With a background in professional music, Jayson has been a sound healer and energy worker since the early 1990's, and he now has many years experience of healing and running workshops. Ever interested in learning more about healing has led him to become fully trained in Reiki, and he has honed his healing work through years of ongoing development with internationally acclaimed miraculous healer Geoff Boltwood (Tareth).
His passion for researching the roots of healing sounds Jayson has even led him to spend time learning with the Khoomei (overtone) singers and nomads of Tuva, Eastern Siberia. Having taught and shared skills extensively in both the USA and UK Jayson is becoming established not only as one of the UK's premier overtone singers but also as a sound healer and sacred sound practitioner with a wealth of experience.
His published written works include articles for Namaste magazine as well as an appendix to David Elkington's book In The Name Of The Gods. He has also demonstrated his work several times on national and regional tv and radio broadcasts such as Everyman, Talk Radio, and BBC Regional News.
His status is also reflected in his being regularly invited to appear at the conferences of organisations such as The Noetic Sciences Institute in LA (co-creators of the hugely successful What The **** Do We Know documentary), and Fountain International (UK pioneers in community healing and positive intent, practically applied).
Jayson's work is conducted with the intent of uncondonditional love shared through healing for the highest good of all - with a generous helping of fun and laughter added for good measure!
Jayson is available for bookings, healing workshops and has released albums of his healing sounds.
Overtone Singing
Jayson Stilwell is the UK's leading practitioner of overtone singing as a healing and meditative tool. He has many years of experience of demonstrating the art form and using it for its healing benefits.
Overtone singing, sometimes known as 'throat singing' is an art form which originates from Tibet, Mongolia and Tuva. Its techniques fall into two distinct categories, both of which were traditionally used in meditation and healing. The "Khoomei Deep Voice" is a deep resonant sound that has been called a human digeridoo. The other main overtoning sound form is a mix of two notes sung simultaneously by a single human voice, one of which is a high whistling or bell-like tone. This tone can be sung in a separate tune from the normal vocal note that accompanies it, allowing for two very different sounds to be made at once by one person.
Releases on Amazing Feet

Brand New World
Album

Tracklisting:

Return to Now
Welcome Everywhere
Outside In
Zero Point
Birthplace of Stars
Mined
Back to Earth

Released: 2001
Catalogue #: AMZT 4006

Onearth
Album

Tracklisting: Released: 2002
Catalogue #: AMZT 4008