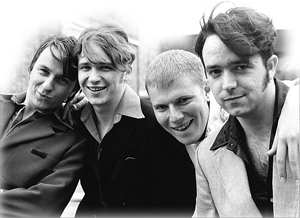 Oxford-based speed-pop New Wave rockers with a penchant for nylon suits and star jumps, The Samurai Seven played their first gig in February 1997.
They rapidly built a large following locally as well as around the south of England and London with a live-wire stage show and a blistering fusion of classic rock and pop, from the Who and the Beach Boys to the Buzzcocks and Adam & the Ants.
The band were chosen as the best band of the Radio 1 Sound City 1997 Fringe by the festival organisers and became firm favourites of John Peel. They featured on Peel's Channel 4 documentary Sound of the Suburbs, contributed the programme's theme tune - a cover of The Members' Classic Sound of the Suburbs and recorded five sessions for the legendary DJ.
In 1999, just as it looked like the band were about to make their breakthrough into the mainstream, disaster struck as lead singer Simon Williams was shot in the eye with an airgun whilst leaving a pub in his hometown. Unable to gig, the band had a brief hiatus as Simon recovered before releasing their stunning debut album Le Sport on Rotator.
The band split in 2004 following the departure of drummer Chris Hayward, but Simon along with brother Matt and bassist Jimmy Martin went on to form The Dirty Royals with new drummer Alain Lotter.
Releases on Rotator

Le Sport
Album

Tracklisting:

Population You
Lucky Pierre
What Have I Said Now?
Flaming Hell Blake
The Straw
Nunnery
Save the Manatee
If You Only Knew
Been A Fool
Amateur Photographer
I Am Yours

Released: 2002
Catalogue #: RRAD 122

Lucky Pierre
Single

CD Single featuring:


Lucky Pierre
I Know Where You Live
To The Nth Degree

Released: 2002
Catalogue #: RRSD 121
Links
The Samurai Seven's BBC Keeping it Peel page.
The Dirty Royals Myspace