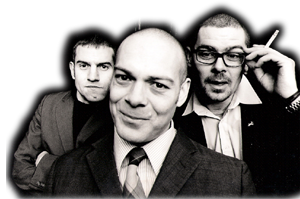 One of British guitars best kept pop secrets, The Sweeney have consistently turned the heads of discerning music listeners since their first year together. Now having released five albums, the band has matured into a force to be reckoned with.
Having gigged his way around North America, Britain and Ireland as a solo act, Murray Torkildsen spent summer 1995 working on new material and itching to shake things up. The Sweeney's frontman formed the band from the desire to give his material a bigger punch that many felt it deserved. Rehearsals with a couple of friends who were between bands went well, and as soon as they hit the studio it was obvious that the formula was working far better than anyone had hoped for.
Murrays forthright lyrical sophistication has always cut straight through the bullshit to tell how it is - a prime example being The Sweeney's debut single Shut Up! released in November 1995 to a very positive reaction, drawing favourable comparisons with Elvis Costello, Paul Weller circa - Setting Sons and Billy Bragg. As for their live performances, the swaggering three-piece have earned the respect and praise normally reserved for the big timers:
"an up front and impressive set of blistering, yet melodic, guitar pop - brilliant."
Their second single Why? earned a regular spot on John Peels deck on its release in early 1996, as well as gaining glowing coverage in the NME before the full extent of Murray's writing gift was revealed on the Sweeney's debut album Pop Gun. Having been recorded in a mere ten days, the album displayed the Sweeney's natural urgency at its best. Since then, Murray, Sid and Adam furthered their reputation as one of the UK's hardest working live bands by touring throughout Autumn '96 in support of the bands such as Bennet. The group then returned to the studio early in 1997 to record their second album Bingo. The singles Fish Face and The Kazoo Song plucked from the album set the album up nicely and it has quickly established itself as another slab of classic Sweeney swagger.
The year 2000 saw the band release their finest moment yet. Simply entitled The Sweeney:
"I have always wanted to use the word eponymous" said Murray

the album is the distillation of everything that makes the band great, and I you won't meet anyone who has it who doesn't absolutely love it. This was followed by Ideal - a best of album crammed full of the band's most popular songs from their electric live set.

Most recently, the band released their fifth album, simply entitled "5". This album was a mix of Murray's latest solo work and displayed some of the more subtler sides to the bands armoury.

After a brief, hiatus, the band returned to live action in 2012 with the promise of more things to come in 2013.

Releases on Rotator

Shut Up!
Single

7" Vinyl featuring:
Released: 1995
Catalogue #: RRSV 104

Pop Gun
Album

Tracklisting:

Shut Up!
This & That
England
Ticket Void if Scratched
Big Red
You Belong to Me
Why?
Easy
On Stilts with Feathers in your Hair
Venus in Fake Furs
Husbands & Wives
Honey Forever

Released: 1996
Catalogue #: RRAD 107

Why?
Single

7" vinyl featuring:
Released: 1996
Catalogue #: RRSV 105

Fish Face
Single

7" vinyl featuring:
Released: 1997
Catalogue #: RRSV 111

The Kazoo Song
Single

7" vinyl featuring:


The Kazoo Song
Rock!
feat. John Cooper Clarke

Released: 1997
Catalogue #: RRSV 112
Bingo!
Album

Tracklisting:


The Cummings Family Outing
Wannabe
Fish Face
The Zoo Keeper
Compos Mentis
Nostalgia Rise
Rock!
The Kazoo Song
Batman and Robin
Mrs Symonds' Daughter
Twinkle Toes
Outside
Wooden Box

Released: 1997
Catalogue #: RRAD 113
The Sweeney
Album

Tracklisting:


Chocolate and Flowers
Heavy Metal Tattoo
White Trash
Belinda
Weight of Experience
Billy the Human Bomb
Anthony
On and On and On
Salford Quays
Your Dog
The King of Harlow
My Invisible Friend

Released: 2000
Catalogue #: RRAD 119
Ideal
Best of Album

Tracklisting:


Billy the Human Bomb
Why?
White Trash
Shut Up!
Slack Jack
Belinda
Big Red
Fish Face
Slow Down
This & That
Rock!
Chocolate and Flowers
The Kazoo Song
Weight of Experience
My Party

Released: 2002
Catalogue #: RRAD 124
5
Album

Tracklisting:


21
The Right Finger
Chump
Pop
Slack Jack
What You Say is What You Are
Maria
Superglue
Imbeciles in Love
Moet et Chandon
Slow Down
The Great Distraction
On Stilts

Released: 2005
Catalogue #: RRAD 129
Links
The Sweeney on Myspace