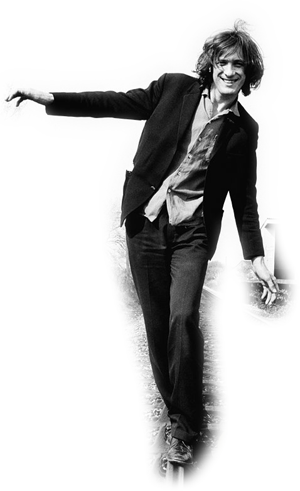 John Otway is an English singer-songwriter, who has built a sizeable cult audience through extensive touring, a surreal sense of humour and a self-deprecating underdog persona
Although his first single, Gypsy/Misty Mountain was released in 1972, Otway shot to fame on the back of punk rock and a gymnastic performance on The Old Grey Whistle Test. His sixth single, the half-spoken love song Really Free reached number 27 in the UK Singles Chart in 1977.
It would be his greatest success for some time and consequently is still easy to track down on the second-hand market. Much scarcer is the picture cover which was only present on a small proportion of the singles. Rarer still, and almost impossible to find, is the advertising sleeve, a die-cut thin paper sleeve printed with an advert for the debut album, snippets of newspaper and magazine reviews and a cut-out Really Free body sticker. The song earned him a five album deal with Polydor Records, who viewed him as a punk rather than merely an eccentric.
His first album, recorded with Wild Willy Barrett, was produced by Pete Townshend but sold only fitfully. The follow-up singles fared no better despite some imaginative promotion, which included an offer for Otway to come to a buyer's house and perform the 1979 single, Frightened And Scared, if their copy was one of only three copies from which the vocal had been omitted. Otway's and Barrett's only other UK chart success came in July 1980 with DK 50-80, a modest #45 hit.
When Otway turned solo, his audience remained loyal despite poor record sales, and perhaps because of the possibility of physical injury during renditions of songs such as Headbutts. In the mid 80s, he often appeared on Vivian and Ki Longfellow-Stanshall's showboat, the Old Profanity Showboat, in Bristol's Floating Harbour. When his music career faltered, the resourceful Otway diversified by co-authoring a play, Verbal Diary. He created a role for himself playing a disorganized, likable twit, and by playing himself to perfection, he found other work playing the same character in commercials on the television.
His 1990 autobiography, Cor Baby, That's Really Me (subtitled Rock and Roll's Greatest Failure) was a study in self-deprecation, and his touring continued to sustain him. Within weeks the book outsold almost all of his albums. In the 1990s, he toured as Headbutts and Halibuts, with Attila the Stockbroker with whom he wrote a surreal rock opera called Cheryl. In 1992, Otway appeared at GuilFest, In 1993 he was able to draw 2,500 fans to a gig in London's Astoria and, in 1998, 4,000 celebrated his birthday with him at the Royal Albert Hall, coinciding with the release of Premature Adulation, his first album of new material for over ten years.
By then, Otway had realised he could use his fanbase, who were in on the joke, to engage in minor publicity stunts. A grassroots campaign saw his Beware of the Flowers Cause I'm Sure They're Going to Get You Yeah voted the seventh greatest lyric of all time in a BBC poll. In 2002, when asked what he wanted for his 50th birthday, he requested "a second hit". A concerted drive, including a poll (scrutinised by the Electoral Reform Society) to select the track, saw Bunsen Burner — with music sampled from The Trammps' song Disco Inferno and lyrics devised to help his daughter with her chemistry homework — reach number 9 in the UK Singles Chart on 6 October, and earned Otway an appearance on Top Of The Pops, BBC Television's flagship popular music programme. To encourage fans to buy more than one copy each of the single, he released three different versions. The flip-side of Bunsen Burner — The Hit Mix was a cover of The House of the Rising Sun recorded at Abbey Road Studios and featuring 900 of his fans on backing vocals, each of whom was credited by name on the single's sleeve. Thanks to this second hit he has now been able to release his Greatest Hits album. Commenting on the fact that the title of this album is now in the plural, Otway said that he was very proud of it, having:
"finally got it (the 's') on the right side of Hit".
Otway currently tours as a solo act; as a duo with Richard Holgarth; and often with his Big Band which includes Murray Torkildsen, Seymour and Adam Batterbee. Throughout 2005 and 2006 Otway teamed up with The Hamsters and Wilko Johnson as part of The Mad, the Bad & the Dangerous tour. A DVD of the tour was released in 2007.
A world tour was planned in October 2006. Otway, his band and 300 fans were to embark on a world tour with gigs in Las Vegas, Sydney, Shanghai and Dubai. However, due to insufficient numbers (150 signed up) the tour was cancelled.
Otway rejoined Wild Willy Barrett for a UK tour from August to October 2009.
Otway now has a motorcycle club of fans called Beware of the Flowers MCC.
He delivers occasional (humorous) lectures on the theme, Making success out of failure, and the sequel to his autobiography, I Did It Otway (also subtitled Rock and Roll's Greatest Failure) was published in May 2010.
Still going strong in 2012, Otway celebrated his 60th birthday with over 1,500 fans at the premiere of Otway the Movie at the Odeon Leicester Square.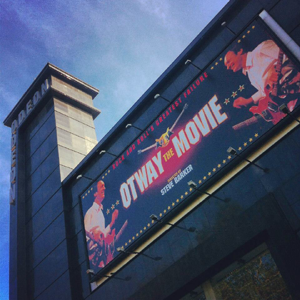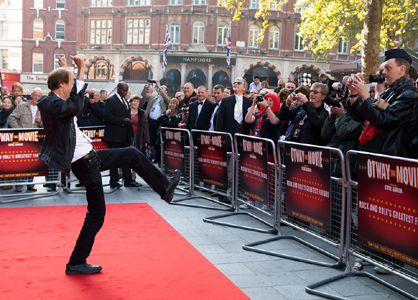 Releases on Amazing Feet

Premature Adulation
Album

Tracklisting:

Judgement Day
Poetry & Jazz
Duet
We Know What She's Doing (She's In Love)
The Saddest Sound Since the Blues
Entertainment (Not)
Photograph
Please Don't Read My Poetry
Nothing At All
God's Camera
Willy (In the Air)
Typewriter

Released: 1995
Catalogue #: OTCD 4004

Live with the Big Band
Album

Tracklisting:

In Dreams
Misty Mountain
Cor Baby That's Really Free
Bluey Green
Racing Cars (Jet Spotter of the Tracks)
Beware of the Flowers (Cause I'm Sure They're Gonna Get You, Yeh)
Josephine
Louisa on a Horse
Baby, It's the Real Thing
Two Little Boys
Best Dream
Frightened and Scared
Cheryl's Going Home
House of the Rising Sun
Geneve

Released: 1993
Catalogue #: OTCD 4001
Links
John Otway Official Site
John Otway on iTunes
John Otway on Facebook
John Otway on Twitter